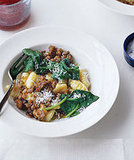 While I always have fresh pasta on hand to use in quick weeknight recipes, I rarely employ gnocchi in the same way. However, this recipe is going to change that!
Wilted spinach, sauteed onions, and Italian sausage come together to make a sauce that is flavorful and filling. A generous helping of Parmesan cheese adds a rich, creaminess to the final dish.
For the recipe, read more.




Gnocchi With Sausage and Spinach
From Real Simple
Ingredients
2 9-ounce packages refrigerated gnocchi or one 17.5-ounce package shelf-stable gnocchi
1 tablespoon olive oil
1 medium yellow onion, finely chopped
1 pound Italian sausage, casings removed
1 clove garlic, finely chopped
1 5-ounce bag baby spinach
1/4 teaspoon kosher salt
1/4 teaspoon black pepper
3/4 cup (3 ounces) grated Parmesan, plus more for garnishing
Directions
Cook the gnocchi according to the package directions, reserving 1/4 cup of the cooking liquid.
Meanwhile, heat the oil in a large skillet over medium heat. Add the onion and cook until softened, about 5 minutes.
Add the sausage and cook, crumbling it with a spoon, until browned, 5 to 7 minutes.
Add the garlic, spinach, salt, and pepper and cook, tossing frequently, until the spinach wilts, about 3 minutes.
Add the drained gnocchi, the reserved cooking liquid, and the Parmesan and toss. Divide among individual bowls and sprinkle with additional Parmesan.
Serves 4.