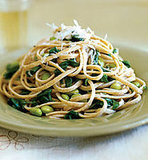 If you're a busy home cook, be sure to keep your pantry stocked with a good whole-wheat pasta. It's the ideal ingredient for rapid, but varied cuisine. You can mix it with everything from bacon and tomato sauce to veggies and cheese.
In this dish, whole-wheat linguine is tossed with peppery arugula and fresh edamame. It's a quick vegetarian meal that's healthy and delicious. To get the adaptable recipe, read more.




Linguine With Arugula and Edamame
From The Nest
Ingredients
2 cups shelled edamame
8 ounces whole wheat linguine or farro
1 tablespoon extra-virgin olive oil, divided
2 cloves garlic, minced
8 cups coarsely chopped arugula
Salt and freshly ground pepper
1/2 cup freshly grated Parmigiano-Reggiano cheese
Directions
Cook the edamame in boiling salted water until they are crisp-tender, 3 minutes. Remove them to a bowl with a slotted spoon.
Add the pasta to the same water, and cook according to package directions. Drain it in a colander, drizzle with 1/2 teaspoon of the oil, and set it aside.
In a large, nonstick skillet, heat the remaining oil over medium-high heat. Add the garlic and cook 15 seconds. Mix in the arugula, coating it with the oil, and cook until wilted, 2 minutes.
Mix in the edamame and remove the pan from the heat.
Add the drained pasta, stirring until it is warmed through, and season to taste with salt and pepper.
Divide the pasta and vegetables among 4 shallow pasta bowls or dinner plates, and top with equal amounts of the cheese. Serve hot or at room temperature.
Serves 4.