I love whole wheat pasta and prefer dishes that feature tons of veggies, almost to the point where the pasta doesn't appear as the main ingredient. My personal preferences inspired me to create this dish, and I have to say it's worthy of becoming a staple among my weeknight meals. It's a savory combination of vegetables and nutty penne, and while I made my meal with chicken, the recipe would be just as good without it.
To see the recipe, read more.


Veggie Loaded Penne With White Wine Sauce
Original Recipe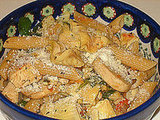 Ingredients
1 package whole wheat penne
2 tablespoons olive oil
6 garlic cloves, minced
1/2 teaspoon salt
1/4 teaspoon dried oregano
1/4 teaspoon dried basil
1/2 medium white onion, diced
1 can artichoke hearts, quartered
6 ounces mushrooms, sliced
5 ounce bag spinach
2 tomatoes, diced
black pepper and red pepper flakes to taste
1/2 cup white wine
1/2 cup vegetable broth
Optional: 6 ounces roasted chicken, cubed
Directions
Set salted pasta water to boil
While the water boils, prepare all other ingredients.
Cook pasta according to package directions.
Heat oil in a large skillet over medium-high heat. If using chicken, add to pan and sauté until browned. Otherwise, sauté garlic and onions until softened, approximately 4 minutes.
Add sliced mushrooms, artichokes, and all seasonings. Stir over heat until mushrooms have softened, approximately 5 minutes.
Add wine and stir. Let simmer for 5 minutes.

Add pasta and stir until coated in sauce. If more liquid is needed, add more wine or use vegetable broth as an alternative.
Add tomato and spinach and simmer for another 3 minutes, until spinach has wilted.

Remove from heat. Add a splash of balsamic vinegar, pepper, and red pepper flakes to taste. Toss pasta and serve with grated parmesan cheese.
Serves 6 to 8.
Print recipe with images | without images