It's tossed with whole wheat pasta to create a dish that is healthful and filling. A heaping dollop of ricotta cheese laced with honey adds a touch of creamy sweetness to the pasta. For the recipe to this creative vegetarian dinner, read more.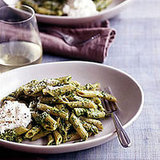 From Every Day With Rachael Ray
Ingredients
Salt
1 pound whole wheat penne rigate pasta
1/3 cup walnut pieces
1 cup packed spinach or baby spinach leaves
1/2 cup packed arugula leaves
1/3 cup chopped flat-leaf parsley
1 clove garlic, smashed and peeled
Pepper
1/3 cup extra-virgin olive oil
2/3 cup grated parmigiano-reggiano cheese (a couple of generous handfuls)
1 cup ricotta cheese
1 tablespoon honey
Directions
Bring a pot of water to a boil, salt it, add the pasta and cook until al dente. Drain, reserving a ladleful of the pasta cooking water.
In a small skillet, toast the nuts over medium-low heat, tossing occasionally, until fragrant, about 4 minutes; let cool.
Using a food processor, puree the nuts, spinach, arugula, parsley and garlic; season with salt and pepper. With the machine on, pour in the olive oil in a steady stream and mix until a thick paste forms.
Transfer the pesto to a large pasta bowl; stir in the parmigiano-reggiano and reserved pasta cooking water.
In a small bowl, combine the ricotta and honey, season with pepper and set aside.
Add the pasta to the pesto, toss and let stand for 1 minute. Serve with dollops of the honey ricotta.
Serves 4.