from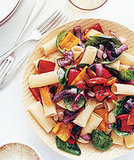 In the warmer months, take advantage of the grill and use it to infuse smoky flavor into vegetables. Grilled veggies are great in everything from salads to sandwiches to pasta, as is the case with this recipe.
Thick chunks of charred red onions and bell peppers are tossed with hearty rigatoni. Spinach provides a crispness and basil gives the pasta a summery, farm-fresh quality.
Don't be limited by the ingredient list; if onions and peppers aren't your thing, substitute other vegetables like mushrooms, asparagus, cherry tomatoes, or broccoli rabe. Check out the satisfying, meatless recipe when you read more.

Ingredients
2 medium red onions, sliced into 1/2-inch-thick rings
2 large red bell peppers, cut into quarters
1 tablespoon olive oil
kosher salt and pepper
12 ounces (4 to 5 cups) rigatoni
1 bunch spinach, stems trimmed, or one 5-ounce package
1 cup (about 3 1/2 ounces) grated Parmesan
3/4 cup basil leaves, thinly sliced
Directions
Bring a large pot of water to a boil.
Heat a grill or grill pan to medium-high.
In a large bowl, toss the onions, bell peppers, oil, 1/2 teaspoon salt, and 1/2 teaspoon pepper. Grill, turning occasionally, until tender, 8 to 10 minutes. Transfer to a cutting board and cut into bite-size pieces.
Cook the pasta according to the package directions. Reserve 1 cup of the cooking water, drain the pasta, and return the pasta to the pot. Add the grilled vegetables, spinach, the reserved pasta water, and 3/4 cup of the Parmesan to the pasta and toss to combine.
Top with the basil and the remaining Parmesan before serving.
Serves 4.